The desire for whiter, brighter teeth is all the rage. There are a lot of different ways to get whiter teeth, from professional procedures, take-home kits and over-the-counter products. But how safe and effective are they? And what is the best teeth whitening treatment for you?
What causes tooth discolouration?
Everyone's teeth are unique and discolour and stain in different ways. Dull, yellow and even dark grey stained teeth can be the result of many everyday factors, including:
Smoking
Coffee
Tea
Red wine
Soft drink
Certain antibiotics
If you have spent years smoking or are an avid coffee or red wine drinker, chances are your smile is not as white as it used to be.
How does teeth whitening work?
The peroxide in teeth-whitening products dissolves the organic stains in the tooth to change the colour and produce a whitened effect. This is achieved by entering the tiny pores of the enamel and dentin before breaking up the stains that block out light. More light passes through the teeth and makes them look lighter as the stains are broken into smaller and smaller pieces.
What are the best teeth whitening treatments?
There are four types of peroxide-containing teeth whitening products available:
In-chair products
Take-home products
Over-the-counter products
Over-the-counter toothpaste
In-chair products
In-chair products are applied by a professional dentist. These products contain a high percentage of peroxide and are applied directly to the teeth, sometimes activated by heat, light, or laser. If you are wanting fast results and don't have tooth sensitivity, this may be the best option for you.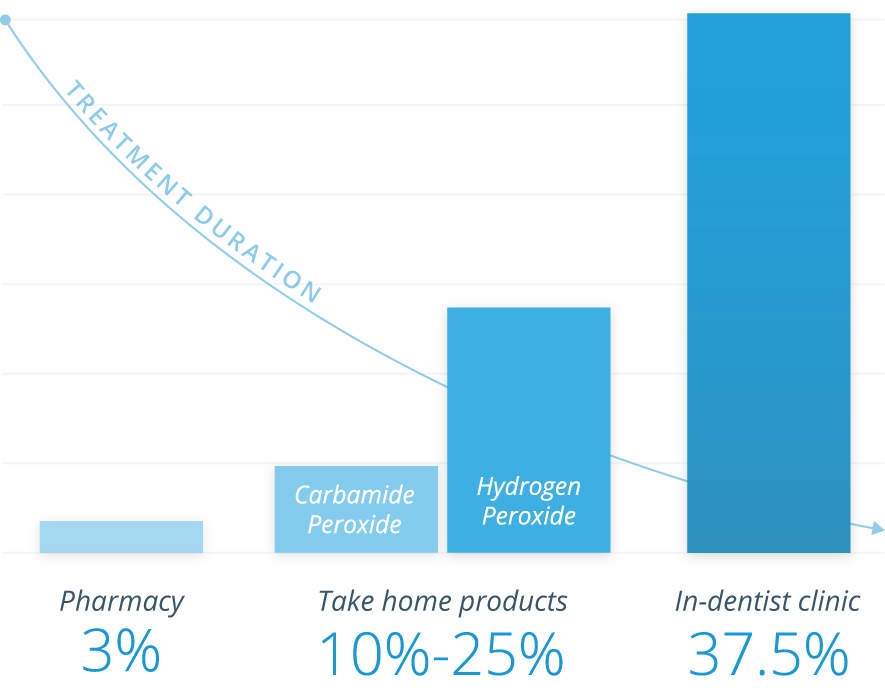 Take-home products
A take-home product that is supervised by a cosmetic dentist contains a lower percentage of peroxide than in-practice products and can be worn in a tray overnight or during the day at home.
A custom-fitted tray is made to hold the whitening product directly against the teeth, allowing for maximum contact and effectiveness. Customised trays also protect your gums by minimising contact between them and the bleaching agent.
Over-the-counter products
Over-the-counter (OTC) whitening products contain a small percentage of peroxide, leading to slower and less effective results. A lot of these products contain an acidic solution that can damage tooth enamel, so they should always be used with caution.
Store bought products are generally one-size fits all and do not guarantee a perfect fit. If your trays are ill-fitting, you may experience irritation from any whitening product seeping into your gums.
It can sometimes take up to 6 months for over-the-counter products to show results. The risks involved and time needed for results with these products makes whitening by a professional dentist the safer and more effective option.
Over-the-counter toothpaste
Over-the-counter teeth-whitening toothpastes also contain a small percentage of peroxide or a polishing ingredient. The toothpastes are effective in removing surface stains and whitening teeth, but some can be very abrasive.
With repeated use, the harsh abrasive will gradually wear away the enamel and make the teeth look yellow. Cosmetic dentists can advise you about the safety and cavity protection of specific toothpastes before you make a purchase.
Does DIY teeth whitening remove deep stains?
Surface stains
Many whitening products specifically refer to surface-stain removal as one of their methods of whitening. A professional clean at the dentist can also remove surface stains (including those between the teeth), often producing a fresher, whiter appearance.
Deeper stains
Although removing surface stains can restore teeth to their natural colour, this doesn't necessarily mean your teeth will be whiter. Deeper stains are more difficult to remove and may not respond well to home-bleaching treatments, or even to the special bleaches and whitening treatments that dentists use. If the tooth is very badly stained, some type of veneer might be needed to disguise the area.
So, before you spend money on DIY whitening, speak to your dentist about treatment options for the particular type of stain affecting your teeth.
---
Best Teeth Whitening in Mount Druitt
Teeth whitening can be a simple, safe and quick way to refresh your smile. Contact us today to learn more about the best teeth whitening options for you or to schedule an appointment.
Mount Druitt Dental Care is a highly experienced teeth whitening dentist in Mount Druitt with a passion for serving the community with the highest level of patient care and a 100% focus on excellence and honesty.